Regular price
Sale price
$6.00 USD
Unit price
per
Sale
Sold out
Add to Babylist
(SUMMER MONTHS) IF YOU LIVE SOMEWHERE HOT - order the cold packs and insulated mailer!! It's a separate product from this but that way I'll add cold packs and insulated mailer for you so your products don't get overly melted!! Your product is still usable if melted. Just either let set at room temp or in the fridge and use as a balm or rewhip after it sets with a handmixer or stand mixer. If you do not purchase the cold packs and mailer, you risk them being melted and will not be offered return, refund or replacement for this!! 
Meet the ✨MAGIC✨ of our The Basic Stitch x Beach Buns All-Purpose Whipped Tallow Balm!! Safe for ages 3 months and up!
Beef tallow is highly skin compatible due to the similarities in molecular structure in both tallow and our skin and natural oils (sebum). This creates the PERFECT product for high absorption moisturization. This balm truly is very versatile! Some uses include: diaper rash cream, baby lotion, cradle cap; moisturizer for dry skin, eczema, psoriasis; small wound care like scratches, scrapes, cuts; small burns and sunburns; makeup remover; wrinkle cream and pore minimizer; stretch mark cream; ingrown hair treatment and razor burn; and so much MORE!!
Our tallow balms are made from high quality 100% grass fed and finished rendered beef fat. The tallow itself is unscented and does not smell like beef/beef fat! It has vitamins A, D, E, K, and B1, along with stearic acid, oleic acid, linoleic acid and linolenic acids. These vitamins and fatty acids stimulate collagen and skin cell regeneration.


Dreampop is Beach Buns' first exclusive scent collab made by The Basic Stitch! This dreamy blend of comforting Chamomile, zesty Sweet Orange, and warm Vanilla is a delight for the senses. Another powerful ingredient is Calendula oil. Calendula oil has antifungal, anti-inflammatory, and antibacterial properties. It also has both linoleic and calendic acid. All of these properties help to renew your skin's protective layer and makes more a great diaper balm! Chamomile essential oils are known for their anti-inflammatory properties and calming abilities through aroma! Orange essential oil boasts potent anti-microbial capacities and a pleasing scent. Vanilla essential oil is a powerful antimicrobial with antibacterial properties.Its pleasant scent makes it a great way to cleanse and purify without causing irritation. This tallow balm has it all! Three special oils combine with other unique ingredients to create a powerhouse that'll keep skin nourished and hydrated. And you'll have fun using it too! Your skin won't believe its luck!
*This statement has not been evaluated by the Food and Drug Administration. This product is not intended to diagnose, treat, cure, or prevent any disease.*
Care Instructions

Knock off solids into the toilet, rinse if needed. Store in a dry pail or wetbag. No bleach, softeners or additives. Tumble dry low or air dry.
Share
View full details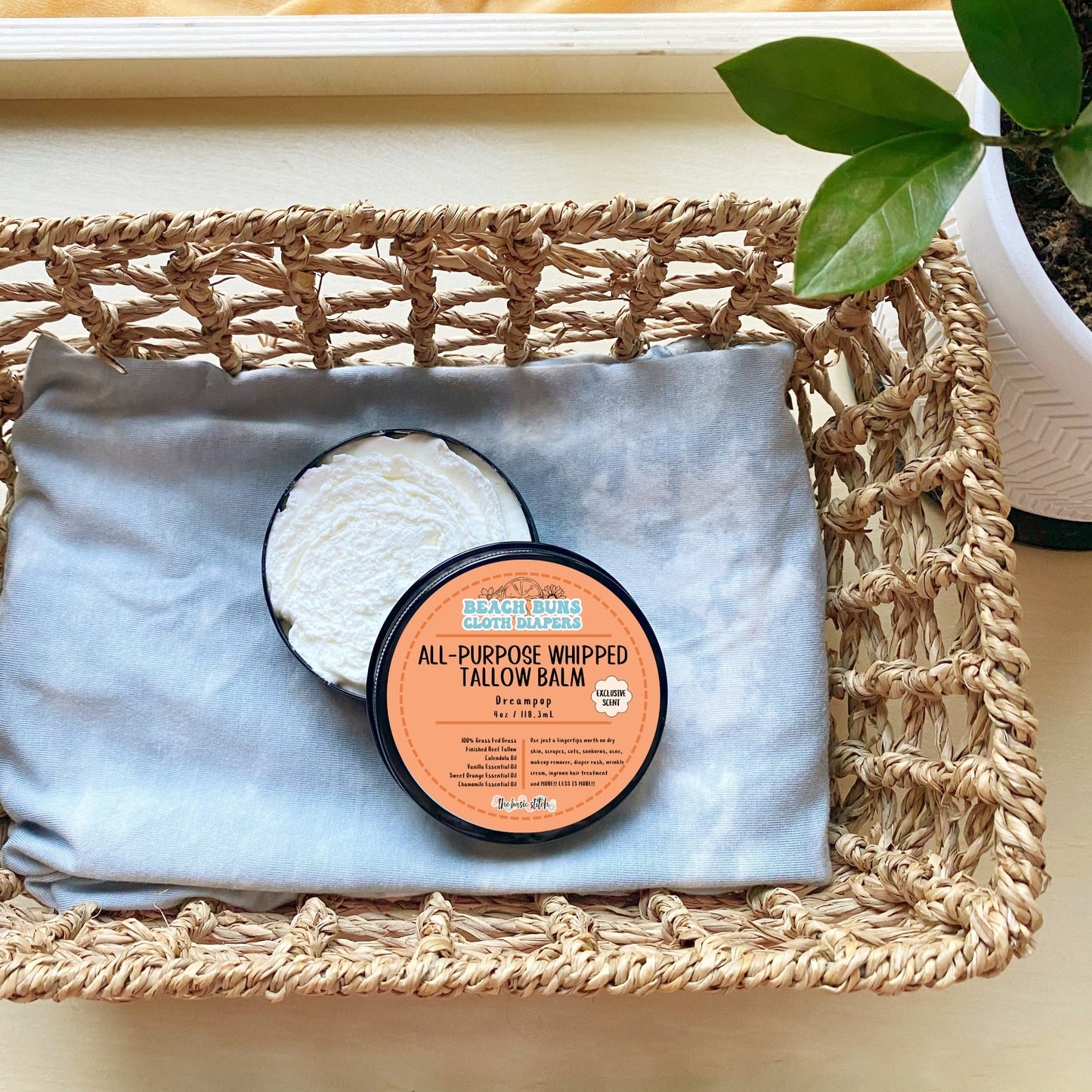 use for everything!!
we absolutely love the tallow! you can use it for so many different things and the scent is heavenly 🤭
It smells like a dreamy creamsicle
This smells heavenly! It's also super fluffy!
Hooked
I have heard great things about Tallow but this is my 1st time trying! Im hooked, my baby loves baths even with a water softener our water is hard. His skin is so moisturized.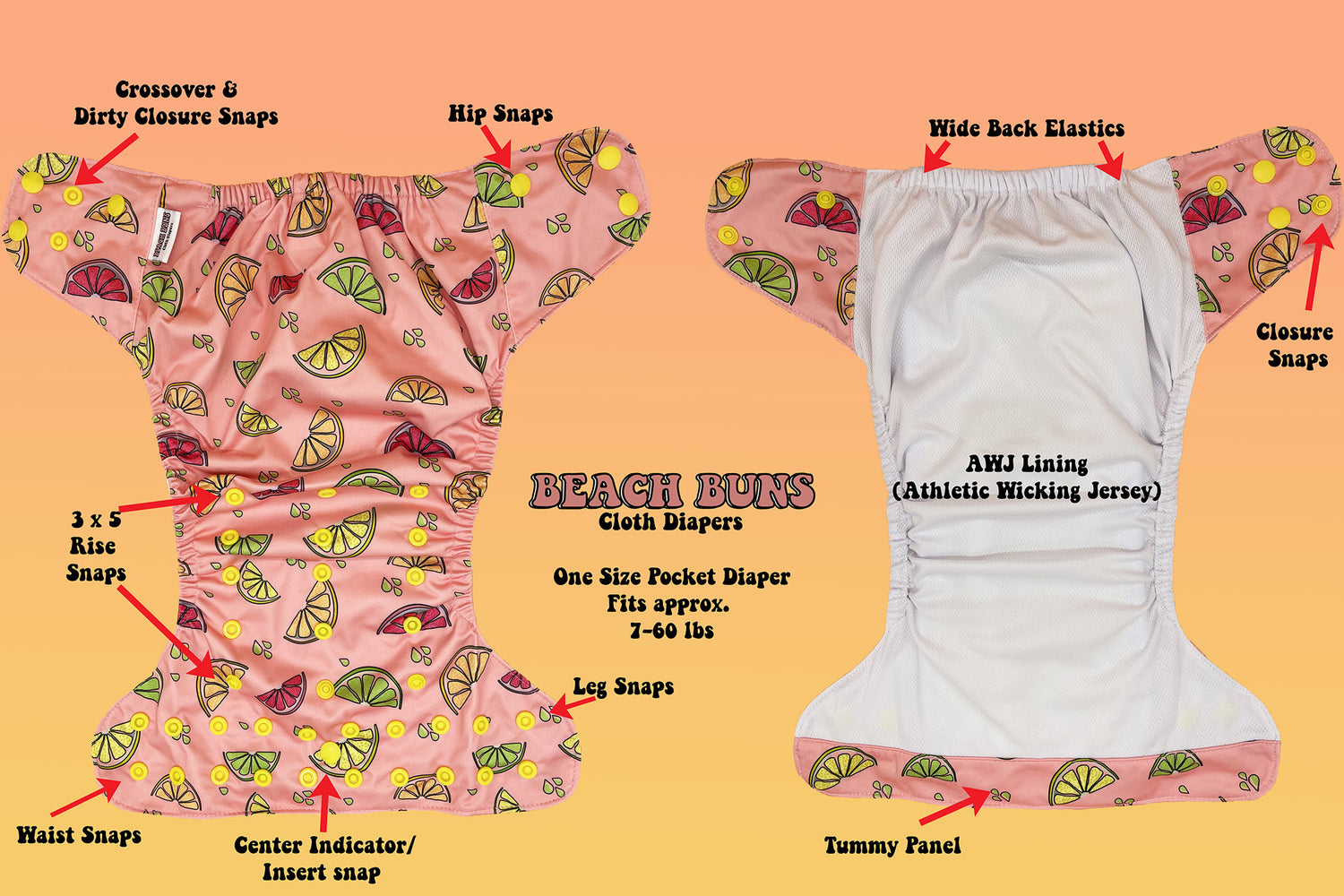 Cloth Diaper Anatomy
Here are the ins-and-outs of our pocket diapers.